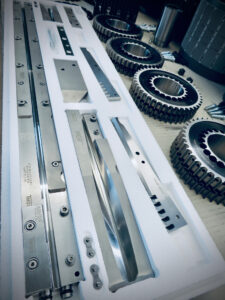 Slim / super slim size, bigger diameters, change of filter and rod length, change of filter split and any combination – TMQS can offer the right kit at the right time at very competitive prices.
We have a well proven record for conversion kits. Highest quality with high value for customers. Budget saving without compromising anything else.
Contact us. Join the highly satisfied customers using our kits already.
Features
Projected and sold numerous times – well proven
Outstanding value to cost ratio, save money and reduce budget spends
All format changes possible
Available for AF / KDF filter makers
Available for all single and many dual rod PROTOS cigarette makers
Available for relevant logistic machinery