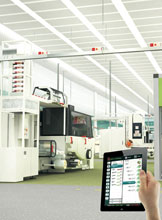 A program to visualize a machine/a factory is nothing extraordinary these days. A program which lets you jump into each machine, check the wear of Key parts, giving hints for required maintenance, provide production figures and also check the material flows and requirements in order to optimize them, however, is a very extraordinary thing.
With the help of a specialized partner, TMQS is able to provide you 3D visualized solutions for your requirements. From single machines to complete factories, each integrated machine will be traceable in its virtual counterparts with all material flows, part wear, production figures etc. Everything can be combined into data streams that let you check each and every parameter of your factory at the touch of a finger – without leaving your office.
This solution is installed at several sites already, providing astonishing results and keeping the focus on the important tasks. It is a self-learning software which adopts to your specific situation.
If you are interested, please get in contact with us. We would be glad to provide more information and discuss your requirements.